Team Care Force
Meet our team members.
Discover the driving force behind Care Force.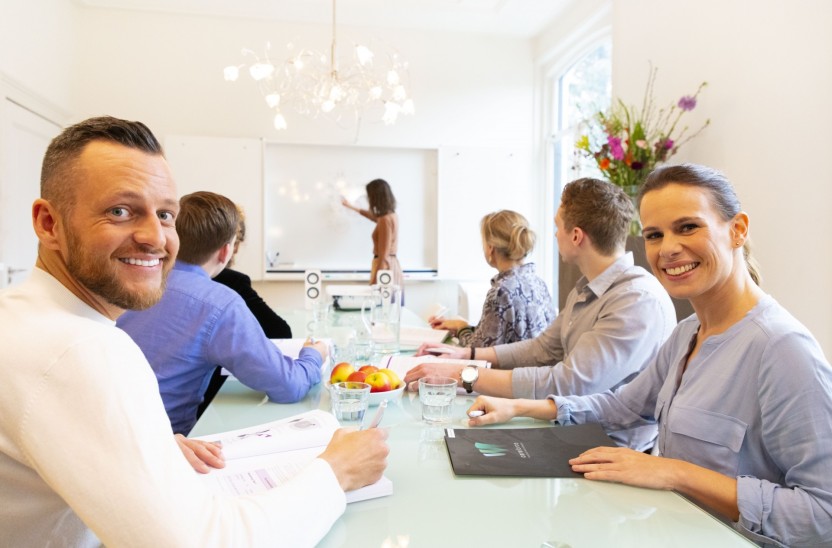 Our team
Regina

Regina Oosterveld - Owner
A streamlined organization in which every colleague feels at home. With healthy finances, fun team outings and original marketing campaigns. Regina gets it done! Her boundless energy, sense of humor, and mathematical brain are indispensable for the team.

Where does Regina get energy from?
"A cool exhibition stand, a smart business model that works, a personal conversation with a colleague. That makes me happy!"

Jasper

Japser Willems - Owner
Jasper is the driving force behind Care Force. As the managing director, he is responsible for every aspect of the Care Force operations: from finance and legal matters, to the recruitment and selection of new staff. His drive, people-oriented approach, and international work experience are very useful in this role.

Where does Jasper get energy from?
"Making organizations that are not yet familiar with Care Force enthusiastic about our services and working method. We really do things differently and we are proud of that. Our candidates are also happy with our services. I recently saw a candidate at work with a smile from ear to ear, that's what we do it for!"

Nathalie

Nathalie van Heijningen - Managing Director
With her vibrant personality, years of experience in commercial healthcare and passion for marketing and sales, Nathalie is the right person to help Care Force grow in the coming years. Nathalie would like to work for an organization with a purpose. She immediately felt at home at Care Force. As Managing Director she has a versatile job, in which she is responsible for the entire business operations.

Where does Nathalie get energy from?
"Care Force has a huge ambition for growth and our services really contribute! I notice that every day. We ensure that candidates can improve their lives, we help them with a better future. In addition, our services also contribute to solving the problem of care shortage in the Netherlands. And we keep going. We continue to innovate and conquer new markets."

Hans

Hans Klaassen - Account Manager Medical
After years of working and travelling, Hans joined Care Force in 2008. Hans is the first contact for all doctors, medical specialists and nurses. His passion: connecting people and helping professionals to find their dream job. Hans inspires his team with his commitment, enthusiasm and sense of humour.

What does Hans enjoy doing best?
"The intake and job interviews with candidates and clients. It is satisfying to help people reach their full potential and make the right match."

Lisa

Lisa Schäffer - Recruiter
Lisa is an HR professional in the field of employment of medical personnel. As a Recruiter, she immediately recognizes the competence of the candidates and ensures that the right person comes to the right place.

What does she enjoy doing most?
'How can I perform my work as efficiently as possible?'. That is the question she asks herself with every new challenge and with every new responsibility.

Tracy

Tracy Vilanova - Recruiter
Tracy grew up in Brazil and as a young girl she already had an untameable urge to discover the world. Before she moved to the Netherlands for love purposes, she lived in the USA for two years, studying and working as an Au-Pair. We love having Tracy on board. She speaks multiple languages and has the ability to persuade people to come to the Netherlands or Belgium based on her own experiences. Helping others has always been something Tracy loves to do. In her spare time she supports Brazilians who just moved to the Netherlands to integrate and feel at home.

What does Tracy enjoy doing best?
"As I chose to rebuild a future in the Netherlands myself, I love to convince candidates of the unlimited opportunities you have as a Dutch citizen. Freedom, good life, great work-life balance. You can be what you wanna be."

Elena

Elena Gonzalez Pacheco - Recruiter
Elena was born in Spain and came to the Netherlands, partly out of love and partly to get to know this small and unknown country with so many career opportunities. Elena feels completely at home at Care Force. She knows how to strike the right chord with the candidates, because she has also chosen a different life in another country. Elena knows how to remove any objections from candidates in her own way. Candidates easily open up when they face Elena, because of her kindness and listening ear.

What does Elena enjoy doing best?
"I am so grateful to be able to make a huge difference in people's lives just by providing them with the right approach and guidance. From the moment candidates contact us to the moment they start working, I want to make sure they will experience as little stress as possible."

Rob

Rob Sijbersen - Accountmanager Dentistry
To Rob the world of dentistry has no more secrets. He spent 9 years of his life in a big dental practice in the South of the Netherlands, where they recruited and assisted foreign dentists as well. Because of that unique experience, Rob knows best that different foreign cultures ask for different approaches. A South European dentist exchanging his pleasant climate for the Netherlands in November missing his family calls for more private attention. With Rob's open mind, healthy curiosity and tireless drive to achieve the good, that's okay.

Where does Rob get energy from?
"Giving everyone a big smile. Both candidate and dental practice. Our clients are happy they finally found a good dentist with which they can continue to schedule treatments. A dentist candidate is thrilled with a promising new future. For himself/herself and the next generation."

Laura

Laura Maussart - Consultant Dentistry
Laura is a multi-talent: she takes care of all registrations and accommodation, and coordinates language courses at the Care Force Language Academy for dental candidates. This way, she helps candidates quickly find their way to a new job in the Netherlands and Belgium. She finds the contact and the cultural exchange with dentists from all over Europe fascinating.

Where does Laura get energy from?
"When candidates feel lost and I can pick them up and give them confidence again."

Maaike

Maaike Buijl - Consultant Medical
When Maaike was 19, she moved from the Netherlands to Spain to learn the language and work as an Au-Pair. She then experienced how it feels to make a fresh start in a brand new country and what it means to have someone by your side to make you feel comfortable. Maaike is a very important chain in our recruitment process. She has regular contact with our candidates and clients and takes full care of all the paperwork. Of course her many years of experience as an operational manager works for her. Maaike takes care of it. With a smile.

Where does Maaike get energy from?
"Helping candidates to walk the right path. If they face any obstacles I am deeply driven to remove these limitations. Unburdening them as much as possible and ensuring they can easily rebuild their real lives."

Patricia

Patricia - Gotz - Finance Officer
Meet: Patricia! She is responsible for the entire financial administration. Her daily challenge: arranging business administration and organizing administrative processes even more efficiently. Thanks to Patricia's careful work and analytical thinking, the accounting of Care Force is solid as a rock.

Where does Patricia get satisfaction?
"If I can ensure that everything is 100% correct financially."

Jelle

Jelle Schuurman - Consultant
Who can help me with this ...?" Probably Jelle, because he knows everything. An IT talent and always up-to-date with current laws and regulations. Thanks to his knowledge, our colleagues can move forward again. And procedures run smoothly. So just give Jelle a call, he'll fix it for you!

What drives Jelle?
"Working behind the scenes so that others can do their job properly."
We're here for you!
Do you want to get started right away in the Netherlands or Belgium? Or do you want to meet us for some personal advice? Contact us now!