The Care Force team
Discover the driving force behind Care Force. Meet our team members.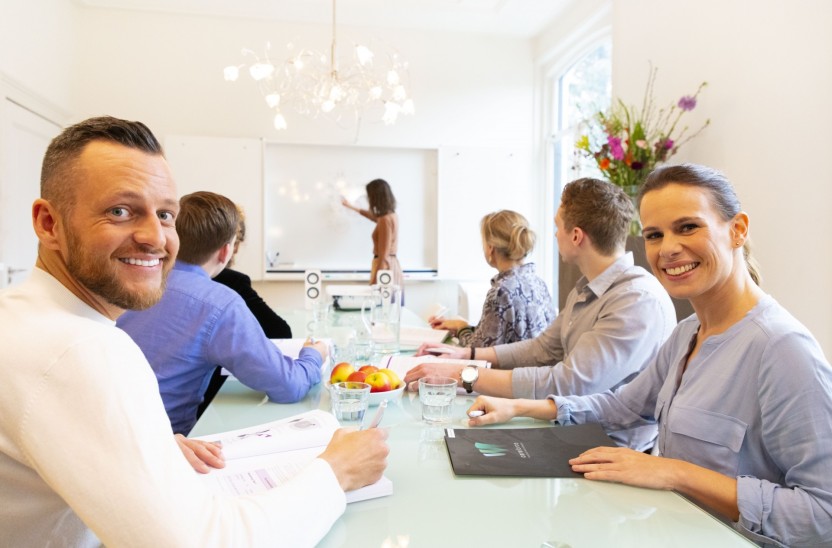 Our team
Jasper

Managing Director

Jasper is the driving force behind Care Force. As the managing director, he is responsible for every aspect of the Care Force operations: from finance and legal matters, to the recruitment and selection of new staff. His drive, people-oriented approach, and international work experience are very useful in this role.

Where does Jasper get energy from?

"Visiting our clients. I recently saw a candidate at work with a smile from ear to ear. That's what we do it for!"

Regina

Commercial Director

A streamlined organization in which every colleague feels at home. With healthy finances, fun team outings and original marketing campaigns. Regina gets it done! Her boundless energy, sense of humor, and mathematical brain are indispensable for the team.

Where does Regina get energy from?

"A cool exhibition stand, a smart business model that works, a personal conversation with a colleague. That makes me happy!"

Hans

Account Manager Medical

After years of working and travelling, Hans joined Care Force in 2008. Hans is the first contact for all doctors, medical specialists and nurses. His passion: connecting people and helping professionals to find their dream job. Hans inspires his team with his commitment, enthusiasm and sense of humour.

What does Hans enjoy doing best?

"The intake and job interviews with candidates. It is satisfying to help people reach their full potential."

Laura

Dentistry Consultant
Laura is a multi-talent: she takes care of all registrations and accommodation, and coordinates language courses at the Care Force Language Academy for dental candidates. This way, she helps candidates quickly find their way to a new job in the Netherlands and Belgium. She finds the contact and the cultural exchange with dentists from all over Europe fascinating.

Where does Laura get energy from?

"When candidates feel lost and I can pick them up and give them confidence again."

Timo

Account manager

This experienced account manager has been in the recruitment industry for a while. Bringing dentists and dental practices together is where his talent and passion lie. Timo is easily approachable and has a high favorability factor.

What gives Timo energy?

By bringing the right candidate to the right practice, to be able to deliver added value to Dutch (dental) care.

Lisa

Recruiter

Lisa is an HR specialist in the field of employment of medical personnel. As a recruiter, she ensures that the right candidates come to the right place. As a marketeer she is a real networker, an enterprising person, she works reliably and she recognizes immediately the most skilled candidates.

What does Lisa enjoy doing best?

'How can I perform my work as efficiently as possible?' That is the question I ask myself with every new challenge and with every new responsibility.

Sanne

Account Manager Dentistry

Tuning to the needs of clients and candidates is something that Sanne does very naturally. An important ingredient as Account Manager Dentistry to make the right match, but also to build lasting relationships.

What gives Sanne energy?

That I can be part of realizing the dream of foreign dentists to settle in the Netherlands. When the perfect match has been made between dentist and practice and thus the first part of that dream has been realized. I get a lot of energy from the satisfaction that gives me!

Jelle

Consultant

Who can help me with this ...?" Probably Jelle, because he knows everything. An IT talent and always up-to-date with current laws and regulations. Thanks to his knowledge, our colleagues can move forward again. And procedures run smoothly. So just give Jelle a call, he'll fix it for you!

What drives Jelle?

"Working behind the scenes so that others can do their job properly."

Patricia

Finance Officer
Meet: Patricia! She is responsible for the entire financial administration. Her daily challenge: arranging business administration and organizing administrative processes even more efficiently. Thanks to Patricia's careful work and analytical thinking, the accounting of Care Force is solid as a rock.

Where does Patricia get satisfaction?
"If I can ensure that everything is 100% correct financially."
Want to know more?
Do you want to get started right away in the Netherlands or Belgium? Or do you want to meet us for some personal advice? Contact us now!