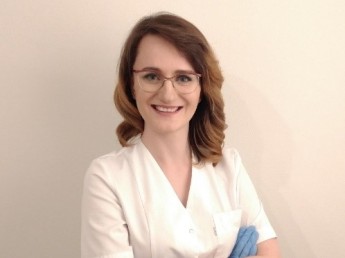 Amelia
Polish, Dentist
Amelia is a BIG-registered 30-year old dentist with 3 years' experience in Dutch dental practices. She studied at one of the top quality Dentistry Teaching centres in Europe.
She loves to combine travel with professional development which results in unusual experiences such as a microscopic endodontics training in Bangalore (India).
She connects easily with the youngest patients. Apart from general dentistry she is particularly interested in endodontics and prosthetics.
Qualities
Candidate ID: K225084
Ambitious

Responsible

Approachable
In person
Amelia is very friendly and focused on providing high-quality service. She enjoys cooking vegan dishes, snowboarding and roller-skating.
Amelia is happy…
when her patients gain a self-confidence boost thanks to her treatment.
Amelia speaks
Polish (mother language), English (fluent) and Dutch (on her way to B2).
Good to know
Amelia is left-handed. Holder of 5A/M certificate. She would love to join a friendly and supportive team where she can make the best of her skills in conservative dentistry and dental surgery. She would like to work in the region Noord-Holland.