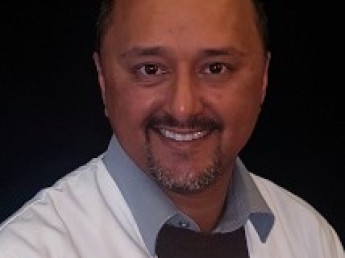 Thabit
South African, Dentist
This hardworking South-African dentist with 19 years of experience has already worked for 1,5 year in the Netherlands before. Thabit now wants to settle down in the Netherlands with his wife and 4 children. He speaks Dutch and has extensive experience in various fields of dentistry.
Qualities
Candidate ID: K225059
Cheerful

Dedicated

Disciplined
In person
Thabit has enjoyed working the Netherlands before, and now wants to return to offer a better and more stable future to his family.
Thabit is happy to do this
When I ask him what his hobbies are, he laughs loudly… : "I have 4 children!" he says, "I don't have time for hobbies!" But he loves doing things with his family. Going to the park, the beach or taking a nice bike ride together.
Thabit speaks
Fluent in South African and English. Dutch at a B2 level.
Good to know
In 2010, Thabit has become the first South African trained periodontist to have successfully completed the specialist MRD examination in Periodontics from the prestigious Royal College of Surgeons of Edinburgh. This was later complemented by being elected a Fellow of the Royal College in recognition of his clinical achievements. Based on his extensive teaching experience (Human Anatomy, Oral Microbiology, Oral and Maxillofacial Radiology, Oral Medicine and Periodontics) and involvement in academia, in 2017 Dr Peck was elected a member of The Faculty of Dental Trainers of the Royal College of Surgeons of Edinburgh. Thabit currently carries out complex periodontal and implant surgical therapy using the latest techniques.
Thabit is available from April 2020.
In the last week of January, he will be available for a first introduction.