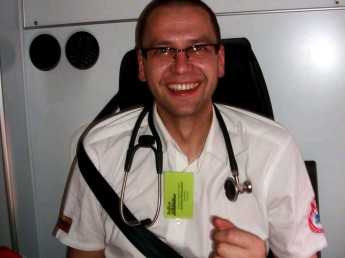 Andrius
Lithuanian, Scrub Male Nurse
In 2003, Andrius graduated from medical school and started working as a male nurse in the operating room. His main responsibilities were: sterilization and disinfection of instruments, preparation of sterile instruments and operating area, assisting the surgeon with transplant surgery, for example. Later in 2011, Andrius obtained the certificate to work with the ambulance and he continues to do so to this day. The main responsibilities are: emergency medical care, emergency room auditor, bringing the ambulance to the patient in need of acute medical attention, and providing first aid, like resuscitation among others.
Qualities
Candidate ID: K242853
Excellent communication skills

Easy to work in a multicultural environment

Rapid adaptation in new situations
About Andrius:
Andrius is a very ambitious person. He is committed to his work and has achieved the best results in all those years. Now he realized that he deserves a better life and has decided to look for new opportunities, for new opportunities.
Andrius likes to do this:
- swimming, watching TV, listening to music, and reading.
Andrius speaks:
- English - good
- Russian - very good
- Lithuanian - mother language
Good to know:
He is immediately available and is very much looking forward to learning the Dutch language.