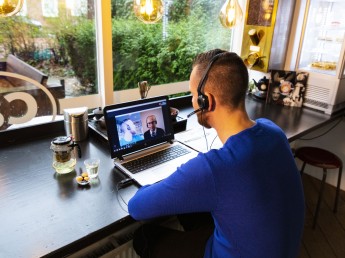 Recruiter
Velp
We believe in a better life for our foreign medical professionals here in the Netherlands or Belgium. Do you like to make a difference in a human life? Then this is your dream job.
Our candidates have a dream, sometimes still latent, sometimes very concrete. Can you find these candidates? And can you help them take the first step towards their new life? Then this is your job!
Do you easily create trust and are you also someone who likes to take the initiative? With respect and an eye for the wishes of our client, you look for the right candidates in Europe. Finding the right European dentist for our clients; dental practices in the Netherlands and Belgium, that's your job.
Are you the independent detective we are looking for? A people-oriented, enthusiastic and result-oriented recruiter? Then you are our talented international recruiter dentistry.
As an international recruiter, your job largely consists of finding European dentists. A few trips abroad are part of your duties. Our strength is the drive, speed, personal involvement and enthusiasm of our team. Does that suit who you are?
Your job responsibilities consist of:
Conducting (English) intake interviews with candidates;
Informing candidates about the services of Care Force;
Registering, maintaining and cleaning up candidate data in the database;
Preparing candidate profiles for mailings;
Deploy and develop (new) recruitment campaigns;
Maintaining contacts with partners in various countries;
Guiding the candidates to the online and intensive language training;
Visiting (recruitment) events at home and abroad.
We ask from you:
HBO working and thinking level;
Experience in a comparable position, such as an intermediary or recruiter, is an advantage but certainly not a must;
Very good command of the English and possibly an additional foreign language such as a Slavic language, Spanish, Romanian, Croatian, Bulgarian, Portuguese or Lithuanian;
Excellent communication skills;
A well-developed empathetic capacity;
Stress resistance and perseverance;
You are proactive, you have a great sense of responsibility and a high degree of independence and self-direction;
You are an honest person, which is reflected in the way you deal with colleagues and customers;
You are able to build and maintain lasting relationships;
You find it a challenge to work with highly educated people of different nationalities and cultures.
We offer you:
A versatile and responsible job within a dynamic and international company;
A pleasant and informal working atmosphere;
A competitive salary and associated employment conditions;
A company phone and laptop;
A workplace in Velp (near Arnhem);
Company Profile
Care Force (www.care-force.com) "connecting medical professionals", that's what we stand for. We are happy to connect our top candidates with healthcare institutions and dental practices in the Netherlands and Belgium. We believe we can help solve the health care shortages in the Netherlands. At the same time, we like to make dreams come true, we realize a new life for the candidate. A life they dream of… Since 2002, Care Force has specialized in the recruitment, selection and secondment of medical professionals for hospitals, care institutions and dental practices in the Netherlands and Belgium. In addition to matching supply and demand, we provide complete guidance and relocation of candidates to their new place of residence and workplace. We take care of matters such as registration as a (dentist) doctor, accommodation, language training and much more. We are strong in identifying trends in the market for international mediation of medical personnel and respond quickly to them.
Corporate culture
Care Force is a dynamic organization with an eye for quality and all social aspects of a job. We distinguish ourselves by the personal approach of our candidates for whom we provide the entire process to live and work in another country.
Interesting?
Do you recognize yourself in our organization and this profile? Respond quickly and email your application letter with CV and photo via Indeed to regina Oosterveld. Only complete applications including CV, letter and photo can be processed.
Qualities
Want to know more?
Do you want to get started right away in the Netherlands or Belgium? Or do you want to meet us for some personal advice? Contact us now!