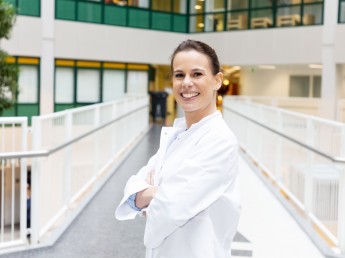 (Occupational Health) doctor
This organization is a young and innovative occupational health and safety service. It is the partner for organizations that want decisive support in implementing working conditions and absenteeism guidance. As a fully certified occupational health and safety service, they have everything they need to solve and prevent illness and incapacity for work. This organization is part of a larger label.
Build together, grow together
This organization works with the formula that optimal use of existing potential is always the best approach for all parties. They also like to make optimal use of what they have in house. They invest in innovative collaboration between medical, occupational experts and absenteeism monitoring disciplines.
In addition, they put a lot of energy into knowledge development, so that you and your colleagues can continue to grow. That is the key to their success. It is a recognized training institution in Occupational Medicine. And also train labor experts and absenteeism consultants internally.
Your work as a company doctor at this organization is varied. For example: preventive activities, sick leave guidance (Sickness Act, WGA and continued payment of wages), health and claim assessment for incapacity for work, advising organizations, prevention employees and Works Council members.
Thanks to a broad and varied customer base, this health and safety service offers you many opportunities and development perspectives. You will join a multidisciplinary team at this organization, in a pleasant working and learning climate, where close cooperation is a normality.
Qualities
Vacancy NR: CAR202004981
Curious

Enthusiastic

Communicative
This is you:
MD
Willing to learn Dutch
Teamplayer
Reasons for choosing this job
4 year education to become a occupational health doctor
Start salary of €4000 Gross per month
Car
30 days for your holidays
8% bonus when on target
Holiday money
40 hours work week
Apply via Care Force and:
Leave all administrative and organizational matters to a dedicated team
Get help arranging the correct documents and registrations
Prepare for a career abroad through our Language Academy
Have everything arranged from A to Z: contract negotiations, housing, banking, insurance and registrations.
We're here for you!
Do you want to get started right away in the Netherlands or Belgium? Or do you want to meet us for some personal advice? Contact us now!