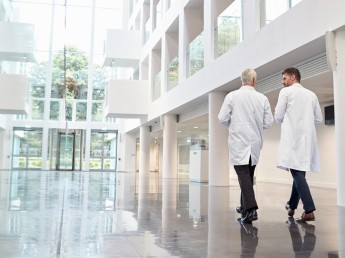 We are seeking a gastro-enterologist for a very modern hospital in Belgium
With our focus on friendliness, training, safety and relocation, this hospital is working daily on innovative and improved care.
For this, the hospital counts on the loyalty, enthusiasm and professionalism of 850 staff members and 95 doctors. We offer warm, patient-friendly care from our three campuses. One of the campuses recently moved to a highly technologically equipped and unique new building. The hospital obtained the NIAZ-Qmentum quality label, which demonstrates the quality and safety of our care.
Will you be their new and friendly colleague? Together with your fellow doctors, you are responsible for the diagnosis and treatment of diseases of the digestive organs. You conduct a clinical and outpatient practice on the various campuses and this within the existing association of internal medicine (including on calls, ...).
You build strong relationships with other disciplines within the hospital and also external care providers. It concerns a contract for an indefinite period as a self-employed doctor - activity level to be agreed - with payment to the hospital. The start of your appointment is by mutual agreement.
Qualities
Vacancy NR: CAR05746
Professional

Communicative

Friendly

This is you:
We are looking for a gastroenterologist with well-developed basic techniques; special competence in ultrasound endoscopy is recommended and can be further developed.
You are a recognized physician specialist in gastroenterology.
You are willing to learn Dutch and preferably speak French.
You are a driven team worker, with strong organizational skills and good communication skills.
You attach great importance to quality awareness and you take sufficient initiative to keep abreast of new developments in healthcare.
Reasons for choosing this job
As a smaller hospital, we can offer an open and family working atmosphere in an attractive region.
You can live and work in the beautiful and vibrant coastal region.
The dynamic Board of Directors and the Medical Council are continuing to work together on a challenging future. Physicians are actively involved in developing this policy.
Anyone who works with us will enjoy a range of advantages such as a competitive offer of investment incentives, the possibility of temporary use of an equipped home, childcare associated with the institution, hospitalization insurance, etc.
Apply via Care Force and:
Leave all administrative and organizational matters to a dedicated team
Get help arranging the correct documents and registrations
Prepare for a career abroad through our Language Academy
Have everything arranged from A to Z: contract negotiations, housing, banking, insurance and registrations.
We're here for you!
Do you want to get started right away in the Netherlands or Belgium? Or do you want to meet us for some personal advice? Contact us now!