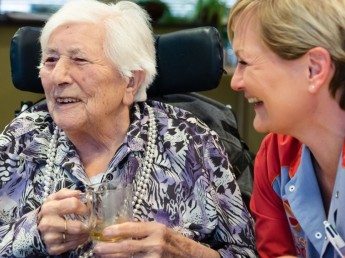 Nurse for elderly care organization in the Netherlands
Several locations in Drenthe, The Netherlands
Intro
Are you a nurse and looking for a new challenge at an organization where employees are central? Then this job may be perfect for you.
About the job
At this elderly care organization, people live with smiles and laughter. The organization invests in the vitality and inspiration of their employees so that they can support people with living a life in a comfortable and safe way. After all, we are all people with a story. This organization is a sustainable employer: it takes care of clients and employees, the environment, and the future by, for example, building sustainably, purchasing consciously, working smarter, and looking at sustainable employability of employees. Together with your manager, you give substance to your job satisfaction, your development, and your personal growth.
For the residents of this elderly care institution, this organization is looking for an enthusiastic nurse who can work independently. Do you enjoy variety in your work? Do you enjoy working with different types of clients? Then you might be interested!
Qualities
Vacancy NR: CAR07536
Independent

Flexible

Go-getter

Willingness to learn Dutch up to B1 level

Be available to work as a nurse, for a long period of time in the Netherlands
What are you going to do?
In the first place, you help people with daily personal care. You always look at what people want and can do. You provide the care in accordance with the agreements in the care plan. You have a keen eye for compliance with the quality of care and care policy. In doing so, you coordinate with the client and everyone around them: family members, your colleagues, and other healthcare professionals. You ensure that life is as pleasant as possible for your client. Finally, you work in varying shifts, depending on the demand for care.
This is you
You have completed your nursing studies
You are a starter or have work experience
Commitment to your clients, your team, and the organization
Ability to work independently according to guidelines and protocols
Working with a customer-oriented attitude
You are willing to work all common services, of course in consultation
Reasons for choosing this job
€2135,43 - €2937,68 gross per month depending on work experience
36 hours a week
Flexible working hours
Contract for 2 years with Care Force. After the 2 years, a permanent contract with the elderly care organization
Full-time after 2 years, part-time is negotiable
20 vacation days per year and 8% vacation pay
Good work/life balance
Career opportunities
Collegial working atmosphere / small team / diverse colleagues
Why choose for Care Force?
Starting your career abroad is a big step, and we understand that, and that's why we are ready to offer you all the necessary support to make your dream become true. Our dedicated team will help you through the entire process. How?
With our own Language Academy you will start your career abroad with the right language skills.
We take care of the process from A to Z: from the first meeting to your first working day.
We arrange all documents and arrange all bureaucratic formalities: contract negotiations, housing, banking, insurance and registrations.
Our professional team will ensure that you can feel at home in your new environment, so you can fully focus on your career abroad; practicing your profession as a nurse.
Start learning Dutch in the Netherlands
For this job, it's important that you are willing to learn Dutch. The course we offer for this organization is different from the one you normally get.
The lessons from A0 to A1 is a program which you are going to follow in the Netherlands. In this course, you will follow 20 hours of lessons, and you will have to make estimated 20 hours of homework per week. Every 5th day, you will have an excellence program. This program is designed to boost your language development and successful relocation. The language course will start on 03-10-2022 and will end on 21-04-2023. After you finished your application as a nurse, you can work at the nursing home. We are happy to discuss details with you personally during an extensive intake conversation.
Our unique offer: housing and pocket money
Care Force will provide you with housing nearby the language school and pocket money, while you are studying. So you can fully focus on the Dutch language! In addition, we offer you the opportunity to extend this offer, so that you can also get through the first three months of your employment contract without any worries.
Interested?
Do you want to know what Care Force can do for you or would you like to receive more information? Then register, without any obligation, via our registration form so that our recruiter can contact you!
We're here for you!
Do you want to get started right away in the Netherlands or Belgium? Or do you want to meet us for some personal advice? Contact us now!