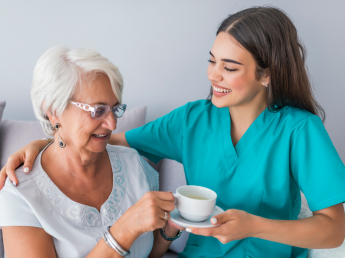 Nursing assistant
Zeeland, the Netherlands
About the job
In the position of nursing assistant (Individual health care level 3) you provide personal care and guidance. Helping the residents to maintain control of their own lives for as long as possible by offering good care and support. Quality of life. Every patient is unique and so is every healthcare provider.
Work in a reliable, value-based, and growth-oriented organization in the elderly care sector in Zeeland, the Netherlands. The organization has 8 different locations, with super-modern buildings and all the necessary infrastructure needed to live a life with freedom and equality.
Qualities
Nursing diploma from an EU/EEA country

EU/EEA nationality

English communication skills

Willingness to learn Dutch up to B2 level

Be available to work as a nursing assistant, for a long period of time in the Netherlands
A better life in the Netherlands working as a nursing assistant
Are you a nursing assistant and dream of taking your career to the next level? Are you ready to take this new step in the Netherlands? At Care Force, we believe in you! With a successful proven track record since 2002, we have already helped more than 1,000 medical professionals and dentists from across Europe to a new future.
About the job, conditions and organization
We are looking for nursing assistants for a large elderly care institution with multiple locations in the beautiful province of Zeeland.
You are going to work in a trusted, values-based, quality, and growth-oriented organization.
You will earn a good salary starting from€ 2,600 gross per month for a full-time position, according to the Collective Labor Agreement for nursing homes, old people's homes, and home care, classification FWG 35.
You will be employed with a permanent contract.
You can make enough working hours: 32 - 36 hours per week.
Possibility of annual salary adjustment.
22 - 24 days paid holiday per year.
8% holiday money paid in May.
A good work-life balance.
The organization offers many career and growth opportunities to become a registered nurse.
Work with nice, friendly, and open-minded colleagues.
Requirements :
European Nationality;
Minimum diploma of Health Care Technician/Auxiliary or Bachelor's degree in Nursing;
If the diploma was obtained outside the European Union, this diploma must have been recognized in an EU country for at least 3 consecutive working years;
Good knowledge of English;
Willingness to learn Dutch up to level B2. We will help you with this process.
The benefits of choosing Care Force
Starting your career abroad is a big step, and we understand that. That's why we are ready to offer all the necessary support to make your dream became true. Our dedicated team will help you through the entire process.
How?
With our own Language Academy you will start your career abroad with the right language skills.
We take care of the process from A to Z: from the first meeting to your first working day
We arrange all documents and arrange all bureaucratic formalities: contract negotiations, housing, banking, insurance, and registrations.
Our professional team will ensure that you can feel at home in your new environment, so you can fully focus on your career abroad; practicing your profession as a nursing assistant.
After signing the contract, start learning Dutch in 8 weeks with our Online program while you're still in your country
For this job, it is important that you are willing to learn Dutch. You will study together with a buddy accordingly with the course material, and the progress will be closely monitored by a certificated teacher. At this stage, it will be required only 2 hours a day, in your free time. This is a real investment in yourself and your new future.
After obtaining the A1 Certificate, comes the following step: 4 weeks Online-Intensive program while you're still home, getting ready to move to the Netherlands. After passing the A2 exam, you will be invited to Arnhem, Netherlands to follow our In-house intensive language training until the B2 level for the next 3 months. After this journey, you will have the perfect Dutch language skills to start working as a nursing assistant in the Netherlands!
Our unique offer: housing and pocket money
While you are studying, Care Force will provide you with housing and pocket money. So you can fully focus on the Dutch language! In addition, we offer you the opportunity to extend this offer, so that you can also get through the first three months of your employment ontract without any worries.
About the application process
Care Force guides you step by step. We assist you throughout the process, from the first phone/video call to the onboarding to make sure you are happy with your new job. Together we go through the application procedure, organize administrative and organizational matters, and guide you with language training and housing. Please take the first step by sending your resume and doing an interview! From that moment
Interested?
Do you want to know what Care Force can do for you or would you like to receive more information? Then register, without any obligation, via our registration form so that our recruiter can contact you!
We're here for you!
Do you want to get started right away in the Netherlands or Belgium? Or do you want to meet us for some personal advice? Contact us now!