What activities are there to do in Arnhem?
What activities are there to do in Arnhem?
Arnhem is the location of the language academy, the surroundings offer several options for relaxation. Here are some activities you can consider to unwind and enjoy your time in Arnhem:
Visit Sonsbeek Park: This beautiful park in the heart of Arnhem provides a serene environment for relaxation. Take a leisurely stroll through the park, enjoy a picnic, or find a quiet spot to read a book.
Explore the Veluwezoom National Park: Located just outside of Arnhem, Veluwezoom is the oldest national park in the Netherlands. It offers picturesque landscapes, forests, and heaths. You can go for a peaceful hike or rent a bike to explore the area.
Visit the Kröller-Müller Museum: Situated in the Hoge Veluwe National Park, this museum houses an impressive collection of modern and contemporary art. Spend a few hours admiring the artwork and take a leisurely walk through the sculpture garden.
Relax by the Rhine River: Arnhem is situated on the banks of the Rhine River, providing a lovely setting for relaxation. Take a stroll along the riverfront, find a bench to sit and enjoy the view, or even consider taking a boat tour.
Enjoy a spa day: Arnhem has several wellness and spas where you can unwind and pamper yourself. Indulge in a massage, sauna, or other rejuvenating treatments to help alleviate stress.
Explore the Burgers' Zoo: If you enjoy nature and wildlife, the Burgers' Zoo is a great place to relax. Take your time exploring the various exhibits and watching the animals in a tranquil setting.
Visit the Arnhem Open-Air Museum: This museum showcases the history and culture of the Netherlands through reconstructed historic buildings. Stroll through the outdoor exhibits and immerse yourself in the peaceful atmosphere. Visiting the Arnhem Open-Air Museum is also part of the Care Force Excellence program to introduce you to the Dutch culture and heritage.
Enjoy local cafes and restaurants: Arnhem has a vibrant culinary scene with numerous cafes and restaurants. Find a cozy café, sip a cup of coffee, and enjoy some local delicacies while unwinding.
Visit the Gelredome; the Gelredome is a large multifunctional stadium and home of Arnhem's football team Vitesse. You can visit an Eredivisie match and watch Vitesse play or you could visit one of the many music and sports events that are being hosted at the Gelredome.
Eusebius Church: Climb the tower of Eusebius Church for a breathtaking view of Arnhem and the surrounding area. It's a serene experience and provides a unique perspective of the city.
Shop and stroll in the city center: Arnhem's city center offers a blend of modern shops and historic streets. Enjoy a leisurely shopping experience or simply take a stroll, appreciating the architecture and vibrant atmosphere.
Visit a cinema or movie theatre: Arnhem offers several cinemas like Pathé and Vue or Focus film theatre. Where Pathé and Vue offer Hollywood-style movies, the Focus film theatre offers smaller-budget movies from different countries.
Remember, relaxation is subjective, so choose activities that align with your interests and preferences. Whether you prefer nature, art, or simply sitting by the river, the region of Arnhem has something to offer for everyone seeking relaxation.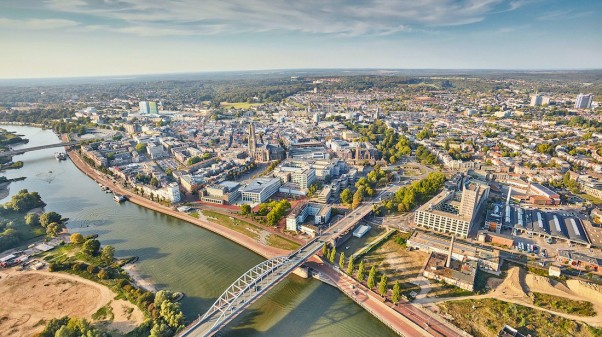 ---
We're here for you!
Do you want to start working in the Netherlands or Belgium, or would you like to meet with us for personalized information and advice? Contact us now!