How to approach Christmas better than baking Christmas cookies for your whole family? With the kitchen full of sweet scents and a delicious result afterwards, this is a must-do during the Christmas season! In this article, we will present you with several ideas for perfect Christmas cookies!
A lot of different cookies!
When thinking of Christmas cookies, a lot of people have their own ideas with it. Although a overarching theme are the flavors of cinnamon, vanilla, peppermint and red velvet. We will share ideas incorporating these ingredients with you!
Vanilla biscuits
Vanilla biscuits are considered the classic Christmas cookies that are made for cutting out in fun shapes. With some delicious icing and a creative way of decorating, these can look and taste really nice. It is recommended to make them soft, or very crispy as this goes well with the taste of the cookie.
These cookies taste like shortbread cookies, but are not as buttery. It is also nice that they are made with the most basic of ingredients, only needing seven ingredients that you usually already have. You can read and follow the recipe here.
Gingerbread cookies
Gingerbread cookies, no Christmas holiday would be the same without them. Like the vanilla biscuits, these often take the form of a fun shape! Most of the time, this is the form of a tiny man with nice and tasty decorations on it.
But what is gingerbread? Gingerbread is a type of baked cake or cookie. It is typically flavored with cinnamon, ginger, nutmeg, cinnamon and sweetened with honey, sugar or molasses. These flavors really bring that homey, Christmassy vibe during the season and is therefore a good recipe to go with! You can read and follow the recipe here.
White Chocolate Peppermint cookies
A cookie that is quite unusual when thinking of "Christmas cookies" is the white chocolate cookie with peppermint. This is a white chocolate, soft cookie that will just melt in your mouth with a sweet and good aftertaste. And what gives this the Christmas spirit, are the crushed candy canes that are mixed with the cookie batter.
These candy canes will give the cookies a hint of peppermint and make them stand out with the white and red colored bits. Combining this with the good flavor of white chocolate makes for a taste everyone at the family table will love! You can read and follow the recipe here.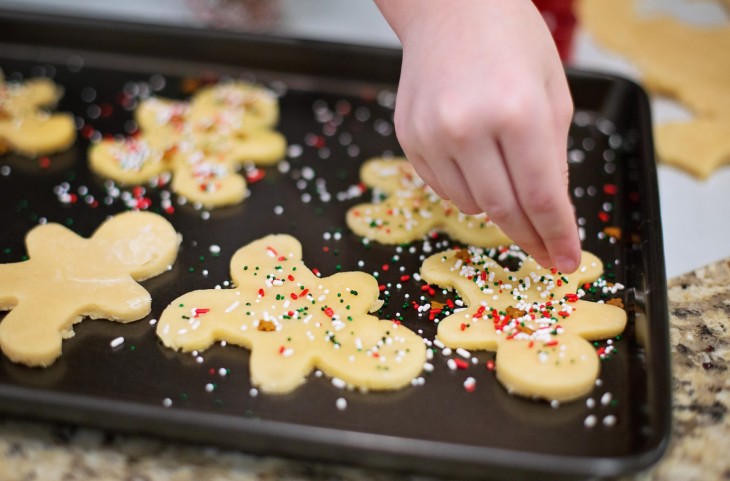 ---
We're here for you!
Do you want to start working in the Netherlands or Belgium, or would you like to meet with us for personalized information and advice? Contact us now!