Christmas Eve, the night you come together with family and celebrate Christmas to it's fullest. You do this with eating good food, listening to music and playing games! But what are fun games to play with your family? And what are games that are played in the Netherlands? We will update you on this!
Secret Santa
One of the most common games to organize on Christmas Eve, is Secret Santa! Why this game is fun, is because everyone experiences the joy of giving and receiving presents from your friends and family.
Usually, everyone picks a random paper with a name on it. The person you pick, you will have to create a present containing some of the things he or she asked for. Another way to approach this game is to say everyone buys a common present. Then, with these presents, you will play a game which will result in everyone receiving a random present!
A suggestion is to decide the maximum budget for each present as this will cause for the least disappointment. And make it personal! When you receive a name from someone you know very well, it is fun to think about a present that fits them and their personality or lifestyle. It can also be something else really creative that has to do with the presents inside, this is up to you!
Trivia Night!
Everyone has knowledge about Christmas. Whether it is about popular movies, songs or traditions during Christmas. So why not make a game out of this? This is the Trivia Night, a perfect competitive game to play with your friends and family on Christmas Eve.
Some cool and interactive ways to approach this game night, is to make a huge Kahoot quiz where everyone can compete through their mobile phone or any device that can explore the internet. It keeps track of the ranking and at the end, a winner will be revealed. You can also appoint a host that will show the questions on presentation slides and let the crowd answer them on a little chalkboard or piece of paper. And, to give it a little twist, you could make the people who lose take a sip of their alcoholic beverage. This is for sure a fun game that will lighten the mood and spark the competition!
"Sjoelen!", the Christmas edition!
What screams more Dutch than the game; "Sjoelen"? Sjoelen is a game where you slide discs across a "sjoelbak" to score points. You score these points by sliding these discs in the holes with the most points and you will typically see this game during Dutch family gatherings and at weddings.
But, it is also a perfect game to play during Christmas! You can decorate the discs with nice Christmas drawings and let the winner pick out a Christmas gift to unbox. It is a game you play, usually, more games of and with your friends and family can become a fun competition game. The only requirements you need are discs and a platform with holes that you can slide these discs across and you're done!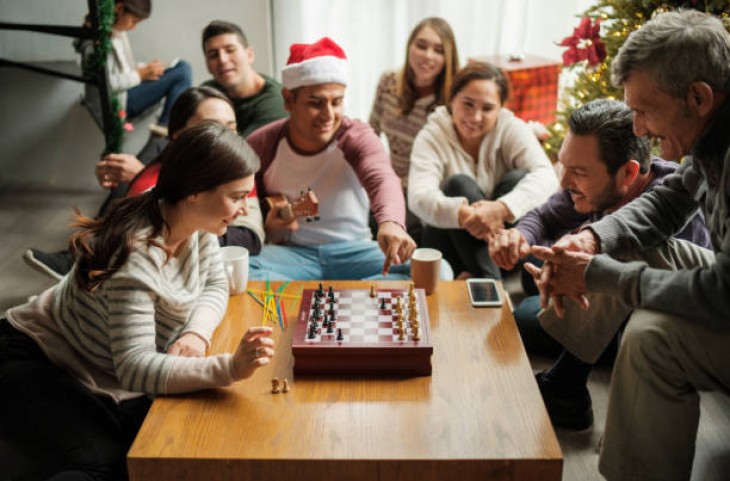 ---
We're here for you!
Do you want to start working in the Netherlands or Belgium, or would you like to meet with us for personalized information and advice? Contact us now!