Cliff at the jobfair in Portugal
Cliff at the jobfair in Portugal
Inspiring and connecting people
This weekend we were at the ExpoMedics job fairs in Porto and Lisboa. At these fairs, we were there to tell you everything about the different possibilities that the Netherlands and Belgium have to offer!
We, from Care Force, have travelled through Europe multiple times to meet and find foreign dentists and doctors at the different ExpoMedics job fairs. This time, after years of successful visits to Portugal, we sent Cliff on his way. Cliff hasn't been to Portugal up until now, although he was already quite charmed by the Portuguese candidates he met online thus far. He sees a lot of potential in the future Portuguese medical professionals, and therefore gladly informs them about the fantastic way of living in the Netherlands and Belgium.
Portugal has a great reputation with us and, because of this, we are going there again every year. Portuguese dentists, doctors and nurses are namely appreciated because they are driven workers and have a good way of thinking. Because of their motivation and effort they put into their work, we notice that hospitals and clinics welcome these Portuguese medical professionals with open arms. Portugal is therefore one of the most popular countries for Dutch and Belgian clinics and hospitals.
As you can see in the picture on the right, we always show up in a representative way. Cliff is therefore wearing a tie in the Belgian colors!
All in all, we have talked with a lot of potential candidates and were able to answer a lot of questions from them, hopefully informing these candidates well enough about the way of living and working in the Netherlands and Belgium.
And we do this with great pleasure every time, informing you as much as possible about the different benefits of working- and ways of living that the Netherlands and Belgium have to offer. We are there to answer all your questions and tell you what to do beforehand so you can flawlessly start your career as a dentist, doctor or nurse in the Netherlands or Belgium!
So, will we see you at the next ExpoMedics job fair?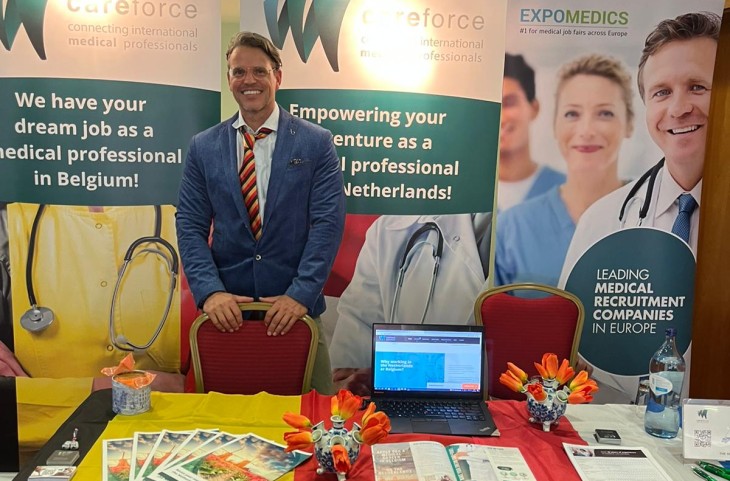 ---
We're here for you!
Do you want to start working in the Netherlands or Belgium, or would you like to meet with us for personalized information and advice? Contact us now!